Seastar HH6541-3 Classic Tilt 1.7 Hydraulic Boat Helm Pump
SKU:

HH6541-3

UPC:

HH6541-3

Condition:

New

Weight:

13.00 LBS
Description
Seastar HH6541-3 Classic Tilt 1.7 Hydraulic Boat Helm Pump
Replaces HH6541 - 5 ORB Fittings Instead of 1/4" NPT

The world's most popular hydraulic boat steering helm - offers smooth, efficient no feedback steering for inboard and outboard applications.
Applications:
Most Hydraulic Steering applications for inboard/sterndrive/outboard boats up to 50ft.
Single outboard engine boats that travel up to 55MPH, for boats over 55MPH see

SeaStar PRO Steering

.
Capable to be used in multiple stations.
Features:
Compact helm
Standard 3/4" tapered steering shaft
Accepts wheels up to 20"
Small 4.5" Hole cutout in dash
Specification:
Front Mount Installation
1.7 cubic inches
1000 PSI Relief Valve Settings
What Comes In The Box:
HH6541-3 Helm Pump
Mounting Hardware
HF6004 Fitting Kit 2x ORB-5 90° Re-Positionable elbow fittings
Replacing a HH5741?
This part is the direct replacement from Dometic Seastar
In the case you have 3rd party fitting, you will need HF6012, so you can screw your old fittings back into the helm/adapters.
SeaStar HH6541-3 Dimensions:

SEASTAR CLASSIC TILT ARTICULATION (5 POSITIONS 30° UP AND -18° DOWN)
Downloads Section:
SeaStar Boat Helm Pump Installation Manual [PDF] SeaStar Marine Hydraulic Steering Selection Guide [PDF] SeaStar Marine Steering Catalog [PDF]
CAUTIONS:
Do NOT use teflon or loctite on the fittings.
Do NOT try to install NPT fittings into helm pump as it may cause damage to the threads.
The fluid cap must be in the uppermost position at ALL times.
NEVER use brake fluid, only SeaStar Steering fluid or Mil Spec H5606 Fluid.
Installation Notes:
The helm pump is packaged with re-positionable o-ring hose fittings (ORB).
If a 20° mounting wedge is used, cut out dash as per mounting wedge template and mount helm directly to the 20° wedge.
The helm may be mounted with the helm shaft horizontal, vertical, or any angle in between.
Install the hose fittings before installing helm pump for ease of installation.
Related Items:
HA5430H

1 Quart of SeaStar Fluid

HA5438

Helm Bottle Filler Kit (this is not included with a helm pump)

HH6544-3

SeaStar 1.4in³ Classic Tilt Helm Pump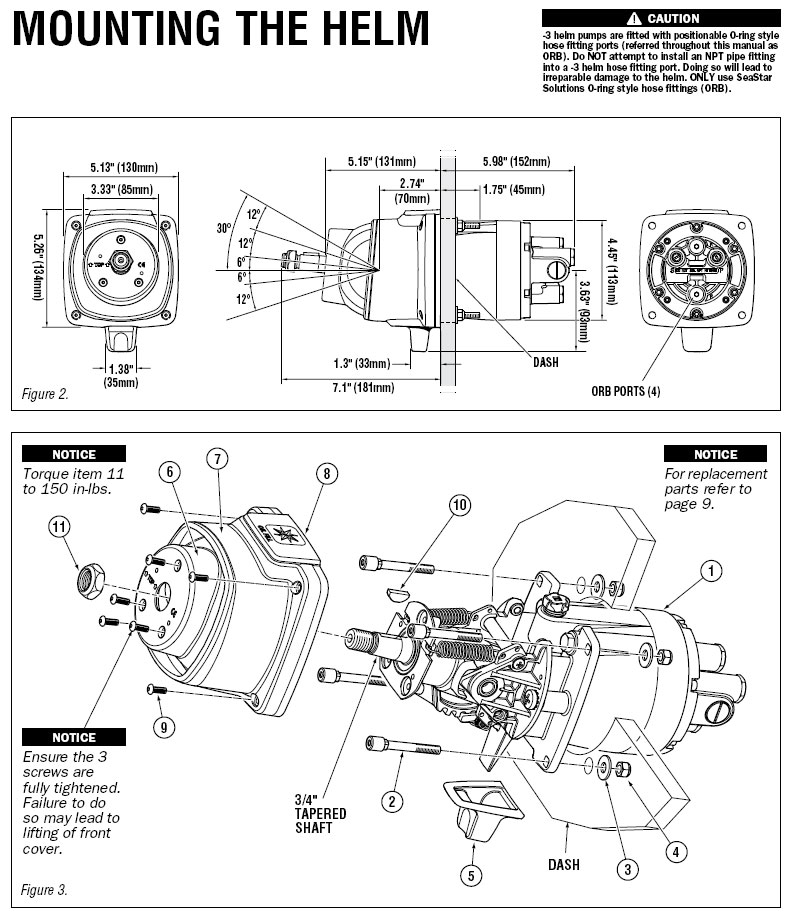 Contact us: Speak with our hydraulic steering expert today:

Contact Page

.
No Sales Tax on Purchases outside of California
Ships Free
Discounted shipping rates for all other options
Expert Customer Service
Formerly Teleflex Marine
Seastar Solutions is now Dometic Marine
International Customers: We Ship Worldwide, Shipping Cost May Quote Too High on Our Web Site,

contact us

for a quote.
View All
Close
4 Reviews
Appreciate the help finding a replacement for my old helm pump. Directions were excellent, had to drill 2 new holes, attached the hoses and installed in my boat with no problems or issues. Boat handles great!

Seastar HH6541-3 Classic Tilt 1.7 Hydraulic Boat Helm Pump

Great product. Would never go with anyone else but SeaStar.

Ordered to replace failed HH5741 steering in my 2003 Sea Ray. This helm is the replacement to the discontinued HH5741. It was a Perfect fit drop in replacement. Be advised that the helm uses an upgraded ORB fitting for the steering hose connections and comes with 2 in the kit. FYI, the old fittings do not work on the new pump. Other than that minor nuisance, it's a great product. Sea Tech was extremely helpful with shipping and firmest information.

Helm arrived on time and works
View All
Close